Dermasonic, Microdermabrasion & LED Photo Rejuvenation
Dermasonic "Get Red Carpet Ready"-Antiaging Results Facial
Great for those special occasions.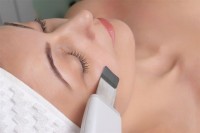 This high-tech facial uses ultrasound waves to deeply cleanse, exfoliate, repair and stimulate the skin. Skin is stimulated to encourage collagen and elastin production. Hydrates and plumps the skin creating a smoother appearance. With a series of 8-12 treatments 2 weeks apart fine lines are less noticeable.LED Youth Light incorporated at end of treatment.
$85.00-60mins
Microdermabrasion - Diamond Peel
A fast and pain free way to rejuvenate and maintain the health of skin with no down time. The Diamond Peel uses diamonds that are embedded into a special tip to gently erase rough and uneven outer layers of skin leaving a smooth, fresh and rejuvenated appearance. On average we renew our skins surface every 10 days. Treats sun-damaged skin, acne, uneven skin tones and fine lines. $85.00-45 min
LED Photo Rejuvenation
Based on research by NASA which shows that certain frequencies of light significantly increase new tissue growth. LED triggers the body to convert light energy into cell energy without thermal injury to tissues. It can increase collagen production, reduce fine lines and wrinkles, sun-damage and reduces overall redness associated with Rosacea.