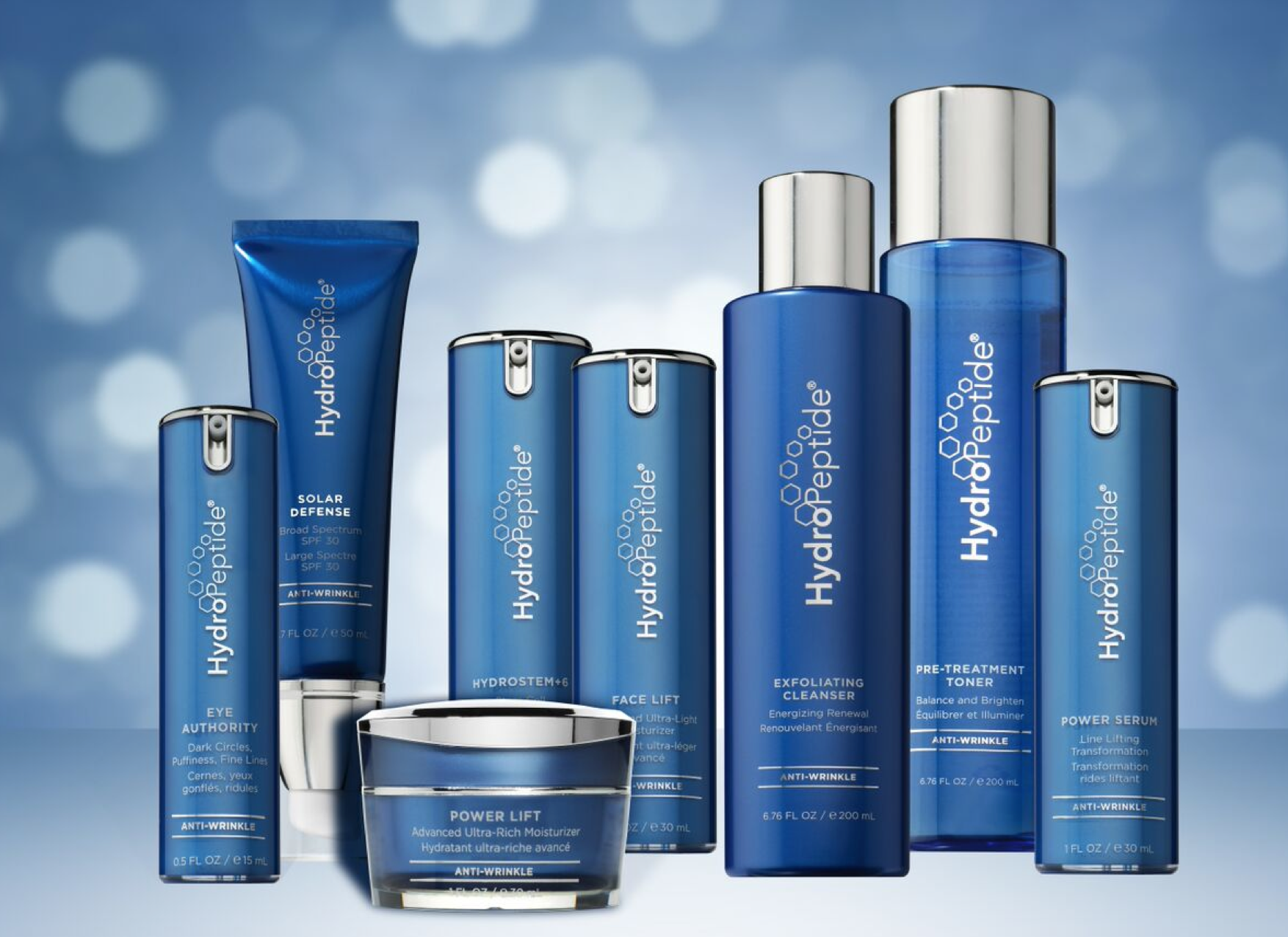 HydroPeptide is more than your anti-aging authority – our customizable regimens go a step further to offer safe and corrective benefits to a variety of skin types and concerns including even the most sensitive and acne-prone complexions. Our products help women and men achieve and maintain their most youthful and beautiful skin. The HydroPeptide retail assortment is comprised of four micro-collections: Anti-Wrinkle, Anti-Wrinkle + Sensitive, Anti-Wrinkle + Clarify, Targeted Solutions.
HydroPeptide cares about giving clients the ultimate anti-aging experience during and after their treatment by avoiding harmful ingredients. The majority of HydroPeptide products are free of sulfates, gluten, phenoxyethanol,propylene glycol, pegs, and artificial fragrances. All of our products are paraben, phthalate and cruelty free.
EYE AUTHORITY:
Multi-Performance Peptides, Pearl Peptides, Antioxidants - This four-dimensional eye cream immediately brightens dark circles while diminishing the look of expression lines, wrinkles and puffiness.
POWER SERUM:
Volumizing Peptides, Skin Enhancing Peptides, Chrysanthus Bulb - This power packed treatment delivers the most advanced peptides, antioxidants and a growth factor activating extract to immediately improve skin health while revealing a firmer, years younger appearance.

SOLAR DEFENSE:
Acai + Green Tea, Aloe + Hyaluronic Acid, Galanga, Titanium Dioxide 2.5%, Zinc Oxide 6% - This non-greasy sunscreen self-adjusts to the color of your skin tone offering flawless coverage, while anti-aging elements hydrate, protect and help clarify the skin.

POWER LIFT:
Multi-Performance Peptides, Pineapple Ceramide, Chilean Boldo Tree Extract - Target all visible signs of aging and quench dry skin with this ultra-rich moisturizer that includes a blend of peptides, antioxidants and skin brighteners.

FACE LIFT:
Multi-Performance Peptides, Antioxidants, Triple Hyaluronic Acid - Experience a visible face lift with this smart hydration cream that contains a mega-dose of multi performance peptides that reinforce skin's defenses while thoroughly protecting against environmental stressors by restoring firmness and visibly improving the appearance of wrinkles and age spots.

Before and After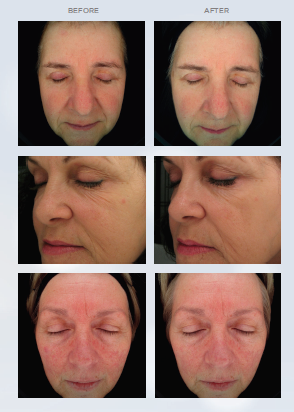 PRESS MENTIONS & AWARDS
Famous faces, celebrity makeup artists, dermatologists and spa directors trust their own and their clients' skin to HydroPeptide because HydroPeptide products deliver award winning results year after year. HydroPeptide is the winner of over 30 coveted beauty awards to date, including "Best Cosmetics Brand" at the 2012 Grase Awards in Russia, Prevention magazine's "Defy-Your-Age-Beauty-Award" and "Best Skin Refresher" from Fitness magazine. HydroPeptide facials have been featured in InStyle's "Little Black Book of Facials." In an interview with Vogue – Paris, celebrity makeup artist Janeen Witherspoon said: "HydroPeptide facials give tired skin a boost for a perfect glow!"